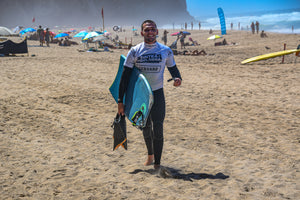 Robbie Berman
Robbie Berman
Age: 23
How long have you been bodyboarding:
Around 9 years
Favourite wave:
Oh my, there are a few! But if I had to name my favourite it would probably be Famous up the west coast due to the waves and the vibes
Favourite memory:
Surf related would be for sure my best wave bodyboarding the Donkey in Namibia. That barrel will forever be burned in my memory
Local break: 
Pretty much wherever the waves are good in Cape Town haha but I'd say Rocklands in Sea Point is my home zone
favourite quote:
"Live everyday like it's our last"
Achievements:
Top 24 on the 2022 IBC World Tour
Sponsors: 
Mstar, Pride Bodyboards
Socials:
Youtube Channel: https://www.youtube.com/channel/UCLeBH1M2A9GGr0Cs-g-ehzg
Instagram: https://www.instagram.com/robbie_berman/?hl=en
Facebook: https://www.facebook.com/profile.php?id=100063496633628
---