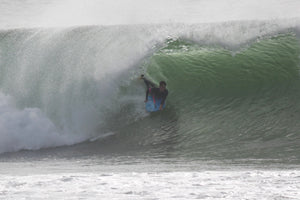 Nicholas Westman


Name : Nicolas Westman
Age : 27 years old
How long I've been bodyboarding : I started bodyboarding in 2007. My best friend at the time, who is still one of my best friends, Dagan Nell took me out one day on an old Manta. Honestly speaking, 13 years later and I still get an overwhelmingly excitement every time I head out in search of waves. The love I have for this sport is incomparable. And I say this with the greatest of confidence as I have also taken up surfing for the last 4 years.
What you love : Searching for waves with friends! That excitement, especially when all the elements come together, is something I cannot fully describe and can only say. Come try and see for yourself. It's life changing! Among that, pushing my limits in the surf is something I absolutely love to do.
Achievements :  Enthusiastic free surfer.. But cannot get enough of a proper contest as it's something I need to challenge myself and improve in. However my best result was SA champs, Durban 2017 where I lost out in a semi-final Dropknee heat in what was still one of my favourite moments.
Life motto : "You've got to risk it, to get the biscuit"

Sponsors : MStar Bodyboarding / Rip Finz


Facebook : Nicolas Westman
Instagram : @nicolaswestman93
---